Washington State Fair Entertainment Schedule for 2015



The WA State Fair Entertainment 2015 " Puyallup Meets Las Vegas!"  It's is going to be off the hook this year!
For the First time ever, Las Vegas 10 year veteran headliner Larry G Jones is coming to Puyallup with his Award winning Music and Comedy Show! The 2015 Puyallup/WA State Fair Entertainment Schedule will include award winning Singing Comedian and Celebrity Impressionist Larry G Jones on September 21-24 in Puyallup! –  Be sure to sign up for email updates in the right hand column!
Get ready to sing, laugh, and clap along as 'The Man of 1002 Voices' delights you with singing, dancing, acting, celebrity impressions, audience interaction and a bit of ventriloquism – with an audience member as his puppet!  This Las Vegas award winning entertainer was awarded both 'Entertainer of the Year' and 'Impressionist of the Year' during a 10 year run at Las Vegas casinos.
Be sure to check out Larry G. Jones' high energy performance of hit music and hilarious impersonations! Larry performs tributes and parodies of celebrities like Bruno Mars, Johnny Cash, Cher, Bruce Springsteen, Lady Gaga, Elvis, Michael Jackson, Guns N' Roses, Motown, Neil Diamond and dozens more. Bring the kids and your grandma because they'll both love this rapid fire music and comedy show.  This interactive and uplifting show show is not to be missed!
Here  is a link to Even MORE Videos of one of the  the Hottest New Acts to be in the lineup at the  the Washington State Fair Entertainment Schedule for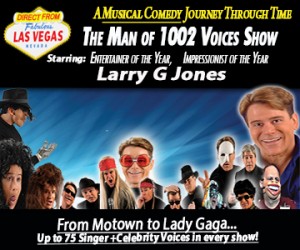 2015
Wa State Fair Show Comedy Show Schedule – NEW Entertainment that's FUN for ALL AGES Sept 21-24 12pm 2:30pm 5pm
Video Preview of Larry G Jones – The Man of 1002 Voices Show

The Washington State Fair in Puyallup WA has a great schedule of entertainment lined up for 2015.  This year there's comedians, hypnotists, bands, jugglers, pumpkin carving, and tribute bands to name a few of the great acts on the schedule. 
However, there's only one act that combines the elements of a tribute show, ventriloquist act, comedian, singer, impressionist, actor and impersonator. This free show includes audience participation, giveaways and lots of 'Fun for all Ages.
For the complete Puyallup-WA state fair entertainment lineup you can start here.
★★★★★★★★★★★★★★★★★★★★★★★★★★★★★★★★★★★★★★★
Larry G Jones

After his 10 year/2400 show run in Las Vegas Larry G Jones now lives in Puyallup with his beautiful wife Andrea who is a TEACHER here!  Larry now entertains at events of all kinds across America. Here's just a few of the cities where Larry performs:
Chicago  Dallas   Phoenix corporate entertainment –  Houston Las Vegas   Honolulu Hawaii  Maui  Seattle 
Orlando- AND SCORES MORE!
CONTACT LARRY – to make your Corporate vent, Gala, Fundraiser, Private event or Auction, a well rounded success!
Calendar
Monday September 21




Larry G. Jones – The Man of 1002 Voices

Showplace Stage


Map
It



Add




Larry G. Jones – The Man of 1002 Voices

Showplace Stage


Map
It



Add




Larry G. Jones – The Man of 1002 Voices

Showplace Stage


Map
It



Add

Tuesday September 22




Larry G. Jones – The Man of 1002 Voices

Showplace Stage


Map
It



Add




Larry G. Jones – The Man of 1002 Voices

Showplace Stage


Map
It



Add




Larry G. Jones – The Man of 1002 Voices

Showplace Stage


Map
It



Add

Wednesday September 23




Larry G. Jones – The Man of 1002 Voices

Showplace Stage


Map
It



Add




Larry G. Jones – The Man of 1002 Voices

Showplace Stage


Map
It



Add




Larry G. Jones – The Man of 1002 Voices

Showplace Stage


Map
It



Add

Thursday September 24




Larry G. Jones – The Man of 1002 Voices

Showplace Stage


Map
It



Add




Larry G. Jones – The Man of 1002 Voices

Showplace Stage


Map
It



Add




Larry G. Jones – The Man of 1002 Voices

Showplace Stage


Map
It



Add
All rights reserved 2015 – Larry G Jones 
J