Why hire a Trade Show entertainer?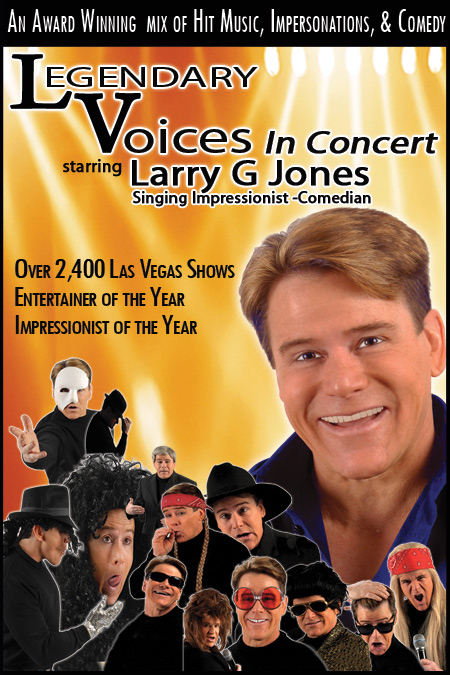 Opportunity: A Trade show entertainer at corporate events can be an opportunity to draw a crowd to your booth and keep the crowd engaged and entertained in an effort to collect data and make sales.
Be Remembered: Having some form of entertainment at your trade show booth or evening dinner event will help your company, brand, or product be remembered long after the convention is over.
Stand Out: Without trade show entertainment your company is less likely to draw a crowd and becomes just another unremarkable booth among a sea of blandness on the trade show floor.
Get a better R.O.I. with a trade show entertainer!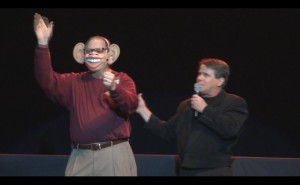 Hiring a Great Trade show Entertainer is your opportunity to stand out among the fierce competition and be remembered long after the convention or corporate event is over.
Larry G Jones' award winning headliner show is better suited for a live stage show with a captive audience for corporate events and gala entertainment. His singing comedian-impressionist show is more likely to be the a better choice for an after dinner event, awards ceremony, gala, fundraiser, president's ball, association event, private party or corporate event than it is for trade show entertainment. However, if you have a great creative and unique idea of how Larry's celebrity voice impersonations would be a great asset to a booth at your trade show we would be glad to work with you. Contact us today and let's brainstorm together!
Customized trade show entertainment
Your trade show entertainer should customize material for the demographic of the guests or attendees. This opportunity to have an individual keep or gather the attention of the group is a fantastic time to incorporate your companies' message into the entertainment program.
If you do decide to utilize trade show entertainment for your convention, make sure have an interactive performer that can create a diverse mix of engagement opportunities. You can then focus on collecting information and making sales pitches for prospective clients to generate business.   So in your planning process, weigh all of the different options available to you and consider details such as cost, space, and crowd diversity. The last thing you'd want to do is schedule an entertainer that may not fit the overall theme of your industry. Larry's ability to customize his show makes him an ideal entertainer for corporate events, and sometimes a featured entertainer on a sponsored stage on a trade show floor.  Contact us today to discuss your needs and we will rock your trade show or corporate event.