Entertainment Ideas -1 Man: 75 Impersonations




Entertainment featuring Celebrity Impersonations and clean comedy are a great way to spice up a corporate event, gala, convention, company party, convention, trade show or meeting
…But… when your corporate event has scores or even hundreds of people, why in the world would you want to stick with an impersonator who imitates only one celebrity or singer? Is every guest there a going to enjoy a Elvis Presley, Cher, or Michael Jackson Impersonator?   Probably not.
The audience at your corporate event is diverse and you need a live corporate entertainment solution that's guaranteed to have something for everyone in attendance. You need a versatile entertainer that has a huge list of singer and celebrity impersonations and will cover nearly every genre of popular hit music from the last sixty years. Enter Larry G Jones….
Who does the Best Impersonations in the Business?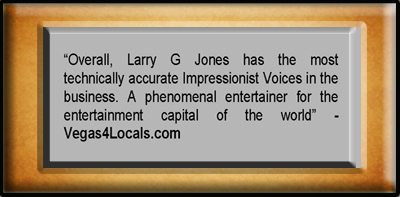 We didn't say it, but according to Tom Wilkinson, the owner of one of Las Vegas' top travel and entertainment websites (Vegas4Locals.com) "Larry G Jones has the most technically accurate impressionist voices in the business."  According to Las Vegas show critic Chuck rounds of Igoshows.com "[Larry] is exceedingly talented…gifted in fact…possibly the best impressionist in Las Vegas."
Las Vegas Magazine mentions that his show "features up to 70 impersonations." This high energy show format won Larry awards like Event Solutions "Entertainer of the Year" and "Impressionist of the Year" while he headlined his own one-man show in Las Vegas. Every age group will have something for them in this entertaining clean comedy, multiple impersonations and music show.
Impersonations for Every Generation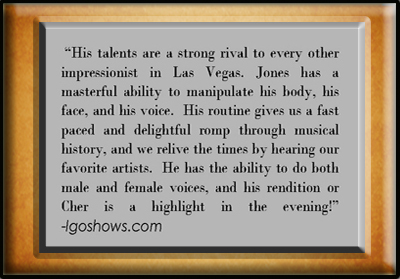 From a Lady Gaga Impersonation parody to a both touching and comedic Michael Jackson impersonation it's all about fun!  Don't forget impersonations of Cher, Frankie Vallie, Bill Cosby and more.
Larry's voice impersonations offer a "fast paced and delightful romp through musical history."  Since no one person can look like like ALL of these people in an instant, Larry's singer and celebrity impersonations concentrate more on the accuracy of the voice and adding a comic twist than the look. Larry uses costumes, props like hats, wigs and other items ( like a glitter glove, hat and wig for his Michael Jackson impersonation) to highlight many of the signature items some of the celebrities might wear.
10X the Impersonations = 10X the FUN at your Corporate Event or Party!
Larry G Jones'  award winning 'Legendary Voices in Concert' show will make your corporate event more fun with a combination of impersonations, clean comedy and song parodies. There's literally almost one impersonation per minute so no one will every be bored! Every corporate event gets a custom show and with a variety of many  impersonations to keep the show interesting and funny. Whether you're looking for a Michael Jackson Impersonator, George Bush Impersonator, Elvis Impersonator, Frank Sinatra impersonator, Lady Gaga Impersonator and/or a Johnny Cash Impersonator; Larry G Jones is the perfect choice for your corporate event entertainment.