Want a Major Headliner for your Corporate Event Entertainment?
VIDEO CLIP:
Event Entertainment featuring the 
'Voice' of Earth, Wind and Fire.
Headline Entertainers and National Acts are certainly a great incentive and 'thank you' for your company's top sales team or executive staff but the expense is typically way out of range for the typical corporate event. Sure it would be great to be able to hire the original Broadway cast of 'The Phantom of the Opera' or 'The Jersey Boys' but there's often no room in the corporate event entertainment budget to hire and fly out the entire cast (let alone just the lead players).
Perhaps you need some great corporate event entertainment for a group of 800 baby boomers. You may want some a clean comedy show followed by a classic rock concert with a national name headline entertainers like 'Frankie Vallie' or 'Smokey Robinson.' If that's the case you'll need to cough up well over 30K (plus expenses). If you to consider some a national name clean comedians for your corporate event entertainment you may want to consider well known acts like Jay Leno or Jeff Foxworthy ( if you have a cool $100,000+ as part of the company's incentive program budget). So what can you do?!
Corporate Event Entertainment Video Demo!
 Often  'Non-National' Event Headliners can be a Gret Value vs. the high budgeted 'household name' Entertainers

Many would say 'You get what you pay for' but when it comes to corporate event entertainment there are still some incredible values out there. Just because an entertainer has never made a splash on national TV doesn't mean they're not as talented as someone who happened to be 'in the right place, at the right time.' In fact there are many corporate entertainers, clean comedians, and variety acts that actually offer more 'entertainment value' and ROI than some nationally known acts.

One Show – Dozens of Headliners
By the sheer variety of the volume of national headline acts that he imitates during his show (up to 75 Singing and Celebrity Voices) Larry G Jones offers more value to the world of corporate event, awards night and gala entertainment than most headliner acts. Consider that your event guests will be able to see a piece of many major concert headliners instead of limiting themselves to one. This fast-paced nature of the show and the clean comedy mixed with music combination makes sure that throughout the show there is something for everyone in your audience.
Corporate Event Entertainment that's a Guaranteed Hit!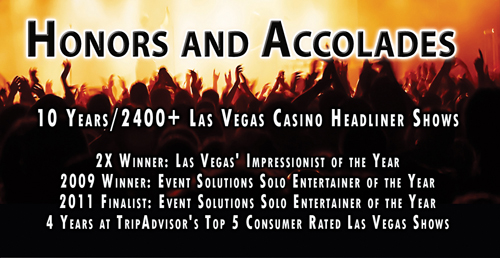 Your corporate event guests will rave about this fast-paced and fun filled celebration of hit music mixed with hilarious clean comedy. You will be highly entertained by an all-star celebrity cast of rapid-fire voice impressions including many of Las Vegas' biggest headliners and Billboard's greatest artists.
The Temptations, Cher, Elton John, Neil Diamond, Elvis, The Phantom of the Opera, and The Rat Pack are just a small sample of the 75 plus voices Larry performs in each show. When you throw a few famous comedians, Hollywood celebrities, and presidential voices in the mix, there is enough comedy and music to appeal to just about everyone. Get Ready… for some fun!When you factor in Larry's ability to customize his corporate event entertainment his show becomes an even greater value!