.
3 Years Postmortem, 12 Time Las Vegas' Entertainer of the Year Releases DVD
Las Vegas' AND Corporate Entertainment's 'Cream of the Crop'
Was one of titles singing impersonator and clean corporate comedian Danny Gans held way back in
the early 1990s when he was earning upwards of 30-75k per night as a corporate entertainer. Of course that was back before there was little scrutiny given to corporate entertainment budgets and we didn't have a lasting recession.  Few clean comedians or corporate comedians make that kind of money in the current age without being a major national celebrity.  But make no mistake, Danny Gans' rise to the top of the corporate entertainment ladder didn't come by chance.  There were many elements at work in becoming one of the most 'in-demand' corporate entertainers in the world, most of which was sheer talent and creativity. You see, Danny could impersonate almost any singer or celebrity and when an Achilles heel injury ruined his baseball career, he decided to develop what had primarily been a hobby; doing voices, coming up with clean comedy parodies and routines, and entertaining the other baseball players on the bus. CONTACT LARRY – to make your special event a corporate entertainment success!
  During the 1980s Danny's 'hobby' turned into a highly lucrative music based clean comedy and impersonation show that he performed at cities across the United States and soon around the world. As a corporate comedian on the circuit, few could touch him and no single type of show was more demand than the broad appeal of Danny Gans' mix of music, impersonations, and comedy.
One of the finest corporate entertainment and Las Vegas headliners to ever live: Danny Gans'
One of the key elements that helped make Danny Gan's award winning show a success was his attention to detail and the great variety of singer and celebrity impersonations in his show. Guests were treated to a whirlwind performance that at times opened up with a hilarious Michael Jackson impersonation and was later followed up with the likes of Frank Sinatra, Sammy Davis Jr, Bill Cosby, Macy Gray  and over 50 more rock, country, pop, current and classic voices.  Danny Gans' corporate entertainment and Las Vegas show became a success because he understood the need stick to music everyone knew.  He understood how to weave it all together into a clean comedy and music show that took the audience on a journey though time, place, and song.
Nationwide Corporate Entertainment or Las Vegas Showrooms -Variety is the Key
With such a huge variety of up to 60 voices in any given show it may come as a surprise that most of Danny Gans impersonations of singer voices(both men and women) were dead-on.  His impressions of Hollywood celebrities were uncanny and on point. Performing at high end corporate functions, banquets and fundraisers, there are very few corporate entertainers who could bring down the house in Chicago, Orlando, Las Vegas, San Diego, Los Angeles, Seattle, Hawaii, or anywhere in the world  like Danny could. In the corporate entertainment genre, impressions are always well received because of the instant familiarity they bring to an diverse crowd and there are some corporate entertainers  out there who do 'a few' impressions well, but it is a rare thing to be able to imitate a dozen (let alone 100 or more ) celebrities AND singers.   Even to this day, Danny was one of the best corporate entertainers ever because he was one of the few that could do it all. CONTACT LARRY – to make your special event a corporate entertainment success!
1996 Danny Ends Corporate Entertainment career to Headline in Las Vegas
In the mid 90s, After earning millions as a corporate entertainer, Danny Gans had a short Broadway run in New York and then  moved to Las Vegas where he headlined his own show on the Las Vegas strip landing contracts rumored to be worth over 150 million dollars. He was the king of the hill in Las Vegas for over a decade, then in 2009, Las Vegas and the world were shocked to learn of the untimely tragic death of Danny Gans at age 52.  The cause of death is listed as a drug toxicity caused by the combination of hydromorphone and a pre-existing heart condition (caused by an adverse drug reaction, and not drug abuse-related ). Before he died, Danny headlined at the Stratosphere, the Rio, the Mirage and the Encore Casinos in Las Vegas earning the title of 'Entertainer of the Year' a record 12 times in a row. A record that will probably never be broken.
2012 -Danny Gans family releases DVD of Live shows- 'Forever the Best'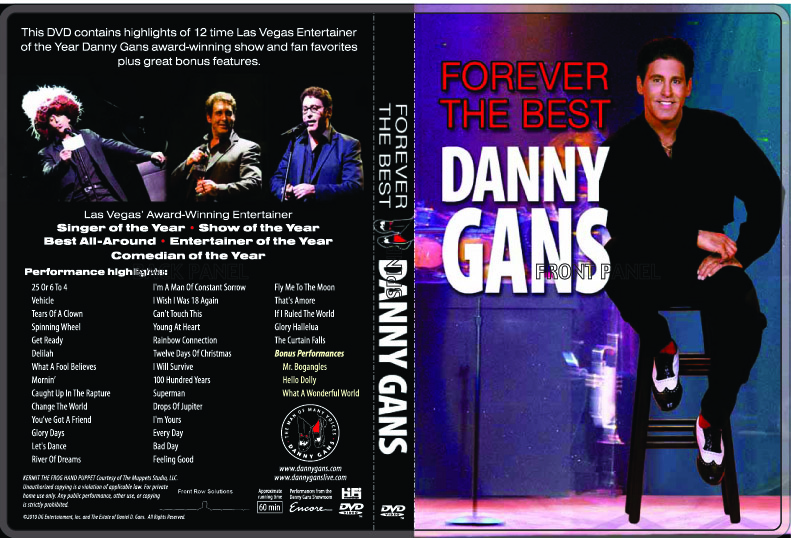 As a top of the line corporate entertainer, clean comedian, actor, singer, impersonator, impressionist, and Las Vegas headliner, Danny Gans will always be 'Forever the Best.'  Click here buy Danny Gans DVD and/or  to see a preview infomercial for Danny Gans DVD of his live performances.
#########################################
About the Author – Larry G Jones is a Danny Gans fan, a multi-award winning corporate entertainer, 10 year Las Vegas headliner,  and chair of the MPI hosted buyer and trade show program for the joint WA/OR Cascadia annual conference. Contact Larry to see how he can customize a show to create great memories for your next special event. See Larry's Video Demo HERE
Corporate Entertainer, Singing Impersonator, Celebrity Impressionist, and Clean Corporate Comedian Larry G Jones is ready to team with you.
No matter what kind of corporate event you're having :

corporate party, special event, gala, Association Entertainment Party, President's Ball, or Employee Appreciation Event, Company Holiday Party, Customer Appreciation Event, After-Dinner Entertainment, Corporate Meeting

, Awards Banquet: Larry Does that.
Please SHARE with the Social Buttons Below!