Multiple Benefits

–

One Top Notch Corporate Party Entertainer
Benefit from Variety – One Man….Up to 75 Singers and Celebrities! 
Whether your corporate party is in Orlando or Las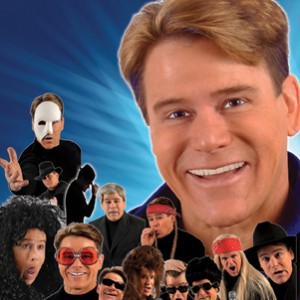 Vegas….unless you're hosting an 'Elvis' convention, its not likely every one of your guests will want to watch someone imitate one person for an entire show.  In fact, a good bet is that each one of your corporate party guests will not even want to see the same type of entertainer. A Variety of people will want a variety of different styles of entertainment. 
As a private party, casino, and corporate party entertainer  Larry G Jones' award winning show includes many genres, styles, and decades of music along with a fast paced, fun filled variety of: musical comedy, stand up comedy, singing, ventriloquism, dancing, a multitude of impersonations (up to 75 per show), celebrity impressions, props, and audience interaction.
Benefit from Laughter –Will they Remember Your corporate party?
Everyone knows that 'Laughter is Good Medicine.'
People remember those special 'laugh out loud moments' in their lives as a direct result of the all-natural 'feel-good endorphins' that are released when it happens.
Laughter and smiling are also good for: Lowering  blood pressure, Boosting immune systems, Relieving stress… Making people happy….and has a myriad of other wonderful benefits.
As a three time 'Survivor' (Cancer, Drowning, Kidney Failure ) Larry understands just how the proper life balance of smiles and laughs changed his life and he loves bringing the transformational joy of laughter and smiles to others' lives at corporate parties around the world.
Ted Newkirk from AccessVegas.com writes "He was buzzing through impressions so full of one-liners and comedic lyrics that you barely stopped laughing at the last one before he hit you with another  zinger."
Benefit from familiar Music

-A Corporate Party Entertainer's Secret Weapon

In addition to boosting our memory and learning capabilities, many of the same health benefits of laughter also apply to music.  These benefits are especially strong when it comes to familiar hit music that people know and love.  Every corporate party has some element of great music and Larry's show is full of musical comedy and impressions from the worlds most popular entertainers' singing their biggest hit songs. Larry's corporate party entertainment presentation is just what the doctor ordered.
Benefit from familiar Impersonations

– Dozens of Singer and Celebrity Voices
Over the last 60 years, major television shows from the Jack Benny program to Saturday night live have launched the careers of  major entertainers with comedy impersonator and impressionist parodies of major celebrities and presidents. People like what they know!

Headline TV & corporate party entertainers  like Will Ferrell, Jim Carrey, Danny Gans, and Rich Little have been taking advantage of the fact that people love to reflect on the voices and memories of singers and celebrities they recognize.  It's one thing to have a corporate entertainer who can sing well, but when they can actually duplicate the voices of the original artists, the impact becomes even greater.
Anywhere including: Orlando Corporate Party Entertainer
– With All of these benefits, Orlando Entertainer Larry G Jones' show is perfect for  your corporate party, special event, gala,

Association Party, President's Ball, or Employee Appreciation Event, Company Holiday Party, Customer Appreciation Event, After-Dinner Entertainment, Corporate Meeting, Awards Banquet. In addition to serving Orlando, Chicago, Seattle, Dallas, Las Vegas, Los Angeles, and San Francisco, Larry travels internationally.