CALL 702-443-1941 –And/OR Email Larry to check his Availability for Your Event! 
27 Voices in 4 min – Corporate/Party Entertainment Video Demo!
List of Voices on 4 Min Demo
 1. Elton John

 

 2. Cher

 

 3. Phantom of the Opera

 

 4. Earth Wind and Fire

 

 5. Bruce Springsteen

 

 6. Led Zeppelin

 

 7. Guns N' Roses

 

 8. Lady Gaga

 

 9. Tina Turner –w/ Ike

 

 10. Michael Jackson

 

 11. Rodney Dangerfield

 

 12. Elvis 

 

– Audience Participation

 

 13. Johnny Cash

 

 14. Willie Nelson

 

 15. Julio Iglesias

 

 16. Neil Diamond

 

 17. David Bowie

 

 18. Frankie Valli

 

 19. Tom Jones

 

 20. Frank Sinatra

 

 21. Dean Martin

 

 22. Sammy Davis Jr

 

 23. The Marcels

 

 24. Big Bopper

 

 25. Chubby Checker

 

 26. Jerry Lee Lewis
Transform your next event from a 'meeting' into a 'masterpiece!' Create lasting memories with Larry G Jones' multi-award winning, customized, 'Legendary Voices in Concert' show.  We understand that great corporate entertainment can bring your event to a higher level and how important it is that your event is a success.
With a show customized for your audience, Larry will work directly with you to create the perfect blend of hit music, impersonations, and clean comedy for your corporate event.After a 10 year/2400+ Las Vegas shows run, as a corporate entertainer Larry G Jones' now creates customized shows and amazing memories at special events around the world based out of Seattle and Las Vegas.While you 'could' put your neck on the line and take your chances with 'Other' entertainment that's NOT multi-award winning ( 'Entertainer of the Year' And 2x 'Impressionist of the Year') …your audience may wish you didn't.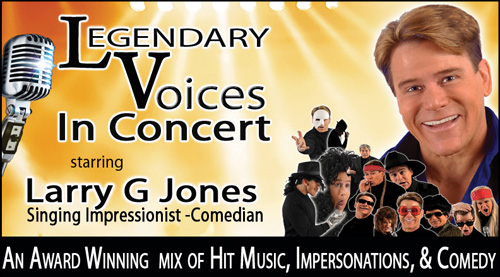 This one-man show also competed with Las Vegas' biggest productions to prove its merit with over four years as one of Tripadvisor's 'Top Five' consumer rated Vegas shows.
This show can be customized for every audience. Are you now considering hiring Larry for your next event? Make a quick CALL 702-443-1941 – to tell Larry about your event and check his availability! And/OR Email Larry to check his Availability for Your Event!
More Live Videos!