Fun Corporate Comedian for Events.

Awards, Meetings, Conventions, Banquets, Associations, and conferences etc.




You want people to have fun?…..Make them laugh!
Finding the right fit for a corporate comedian can be challenging even for seasoned event planners. You want your guests to laugh but you also want something that's unique and dynamic as well. Clean Corporate comedian Larry G Jones' customized 'Legendary Voices in Concert' show is a (dynamic, exciting, and award winning) music driven alternative to the typical 'stand-up' corporate comedy show. It's a high energy 'Singing comedy' show.

Instead of sitting and having a few passive laughs at a 'stand-up' (or in Larry's case a 'Singing'/stand-up )corporate comedian's jokes, your guests will be laughing, clapping along and singing out loud as they experience an interactive  show  with the multiple benefits of clean comedy AND familiar music. The rapid fire format of this show makes sure there's something for every one which makes it the perfect choice for today's caffeine paced culture.
Will your Corporate Comedian Connect with the Audience?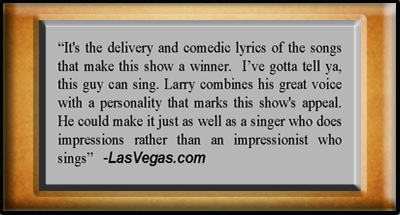 Even if a event has clean stand up comedy, it can be a 'bust'… if the corporate comedian's show lacks an emotional connection with your guests

This high energy (up to 75 Singer and Celebrity voices an hour) corporate comedy show has a special emotion inducing added element that everyone can relate to; music they like. Larry's show instantly connects with every audience by using the universal language of music to not only makes more exciting but to add energy and life into every event guest. The instantly recognizable songs and impersonations that Larry adds to his show make him stand out among the worlds best corporate comedians, singing comedians and celebrity impressionists.
Is Larry 'Really' a funny Corporate Comedian?!

Don't just take our word for it…!  Las Vegas Magazine to says this about corporate comedian Larry G Jones' show; "It's not only hilarious, it's astounding."
Larry's "Legendary Voices in Concert" show  has also been raved about by event planners, corporate comedians, industry professionals, and the thousands of fans who have seen one of his 2400 showroom performances in Las Vegas. You want funny!!? We've got it!
 

Corporate Comedians – Because Everyone loves to Laugh
When you hire top notch, highly experienced, reliable, and highly acclaimed clean comedian like Larry G Jones you (as the event planner) can kick back and relax with the rest of your guests while you enjoy a spectacular show that's sure to be a huge hit.
Larry's custom corporate comedy shows are a great choice for every city and occasion (conventions, meetings, corporate events, seminars, galas, fundraisers, grand openings, marketing events, association entertainment, private parties or awards night presentations.
Larry G Jones has been called 'one of the best impressionists in the world' by the elite Las Vegas press and his dynamic show will have a definitive effect on your company's bottom line by creating a memorable and engaging event atmosphere. Email or call us today to find out how Larry can customize a fun and unique corporate comedy show for your special night.
★★★★★★★★★★★★★★★★★★★★★★★★★★★★★★★★★★★★★★★