)Top Notch association entertainment with a (Singing)Corporate Comedian…
When it comes to creating memories with association entertainment, Larry G Jones' customized corporate shows are the perfect fit for galas, sales meetings, conferences, client appreciation events, awards ceremonies, charity events, association events, marketing events and even holiday celebrations. A few of his highly satisfied Association clients include the NW Credit Union Association, the Texas Auto Dealers Association (they've hired Larry twice! ), and the Pediatric Dentist's Association. Larry's corporate show will keep your guests on the edge of their seat with a rapid fire/voice-a-minute, high energy clean comedy and music  impersonation show that will become one of the most impacting, talked about, and remembered times of your event. The best association entertainment will be a corporate comedy show that uplifts the tone, attitudes, feelings and motivation of the attendees while it creates long lasting memories through an intense emotional experience
Up to 75 Impersonations – One Hilarious Association Entertainment Solution

Can it be true? How can you get up to 75 Entertainers in a one-man corporate Show? – Las Vegas Magazine writer Jack Houston writes "This fast-moving show features about 70 impressions – everyone from Sammy Davis Jr., to Johnny Cash, to George W. Bush, to Bill Cosby to Cher get the Jones treatment."
The show is a non-stop party of great music featuring the worlds biggest entertainers performing their biggest hits. Larry's show has won many awards and accolades for his performances as a association entertainment clean corporate comedian, and a Las Vegas headliner.
Laughter is good for the Mind, Soul and Body – which makes comedy entertainment a logical choice for your company party. It is common knowledge that laughter lowers blood pressure, boosts immune systems, relieves stress and has lots of other wonderful benefits.

As a singing comedian, Larry's clean association entertainment show brings the life changing joy of laughter and smiles into peoples' lives for memories.

1st Class association entertainment..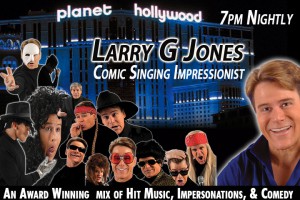 When you take a moment to read the association, event planner, and client quotes on this site, you will see that Larry is a 'consummate professional.' His award winning association entertainment program is considered top notch and his years of experience as a Las Vegas headliner can help draw attendees to your event.  Once you book Larry, you can kick back and relax with the rest of your guests while you enjoy a spectacular show that's sure to be a huge hit. His hit music and clean comedy show is a great choice every occasion including conventions, trade shows, awards banquets, gala, corporate meetings or conventions.

 Pick a Corporate comedian who can customize your Association Entertainment

Call or email Larry G Jones today.